Discover more from Decade of 2020 Newsletter
How the next ten years will affect those in the middle class?
Hi,
Welcome to Decade of 2020, a newsletter with a relentless focus on how the next 10 years will affect the middle class. Forewarned is forearmed, they say. If you'd like to sign up, you can do so here. Or just continue to read…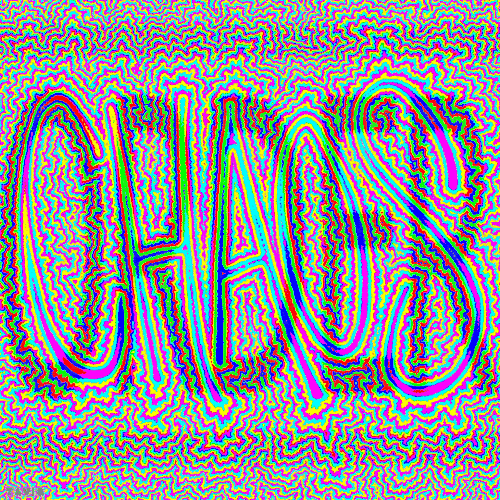 The textbook definition of chaos is a state of utter confusion or disorder. It is human nature to make every effort possible in order to move from pain toward pleasure. And the only way humanity has been able to achieve it is by suppressing chaos out of their daily life. But chaos is something that is innately embedded in Nature. If one were to spend some time chatting with those who have spent years closely studying subjects like geology, microbiology, computer science, algorithmic trading, meteorology, population dynamics, robotics they would instantly agree with what I just mentioned.
It was therefore no surprise when chaos re-emerged in the middle of March in form of a pandemic that stock markets started tanking and there began a mad rush toward safe haven assets. This behavior was perfectly predicable but what I am trying to draw your attention toward is a). the sustained rise in gold and silver prices against all global fiat currencies since that time, even as equity markets have almost retraced the epic heights reached in January of 2020 (see charts below) and b). the unfortunate reality that serfs like us could not lay their hands on precious metals in March/Apr since there was zero inventory with retail precious metal dealers.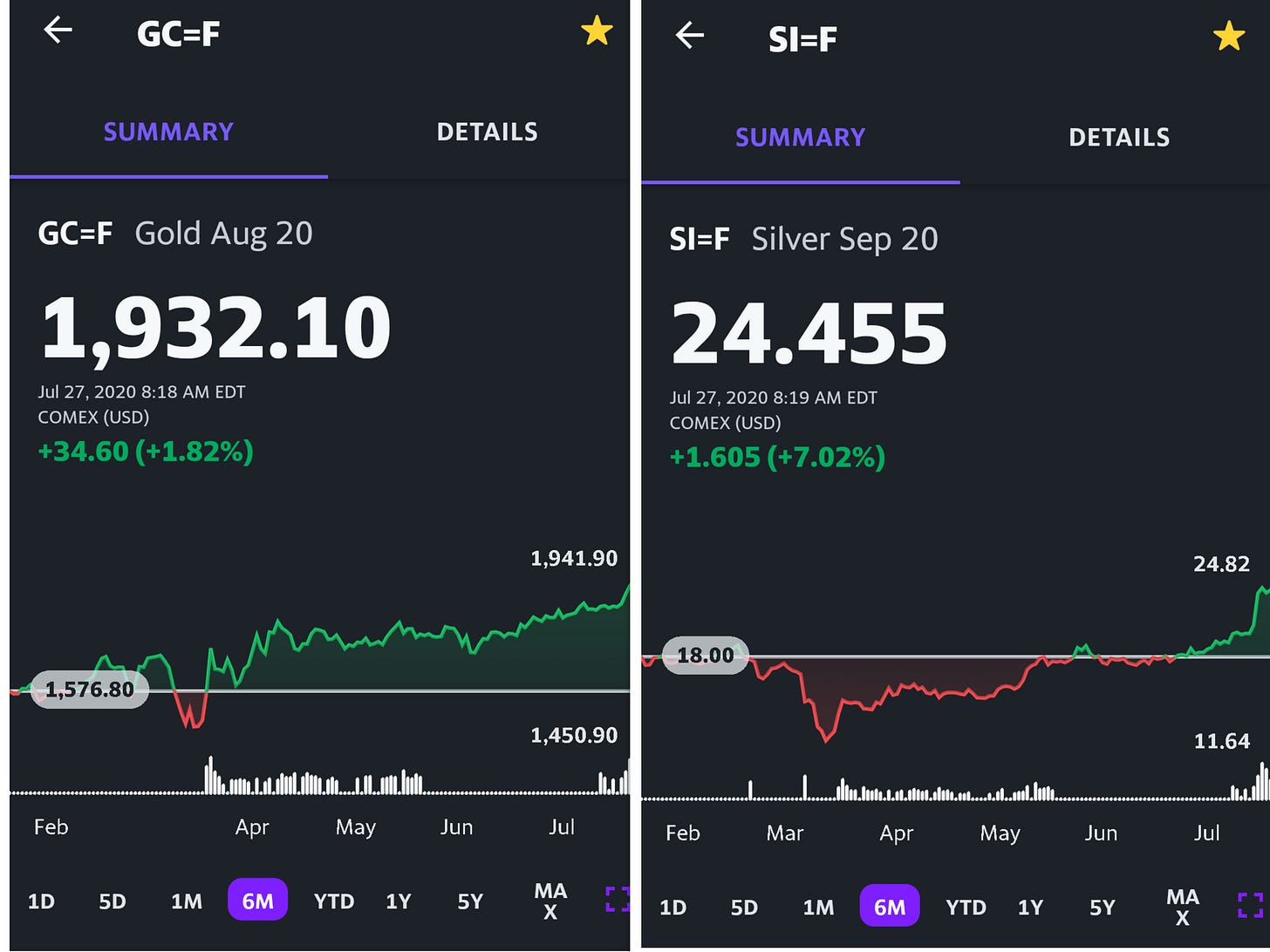 There are plenty of US$ 8,000 per tr. oz of gold predictions by experts and many of those have significant amount of truth to them. Although, what is missing from all of them is the timing component. But my focus is not on price, and it is not on long term value either. It has more to do about its correlation with a growing global inability to create growth despite insurmountable borrowing; with a growing lack of confidence in paper currencies; with a growing lack of trust among financial market participants and above all with a growing lack of faith in Western powers to maintain world order in its current form. Periodically, there have been situations (see chart below) where a couple of the factors mentioned above have been true (not all like they are right now) and the historical gold price in those situations has been a good read of human behavior.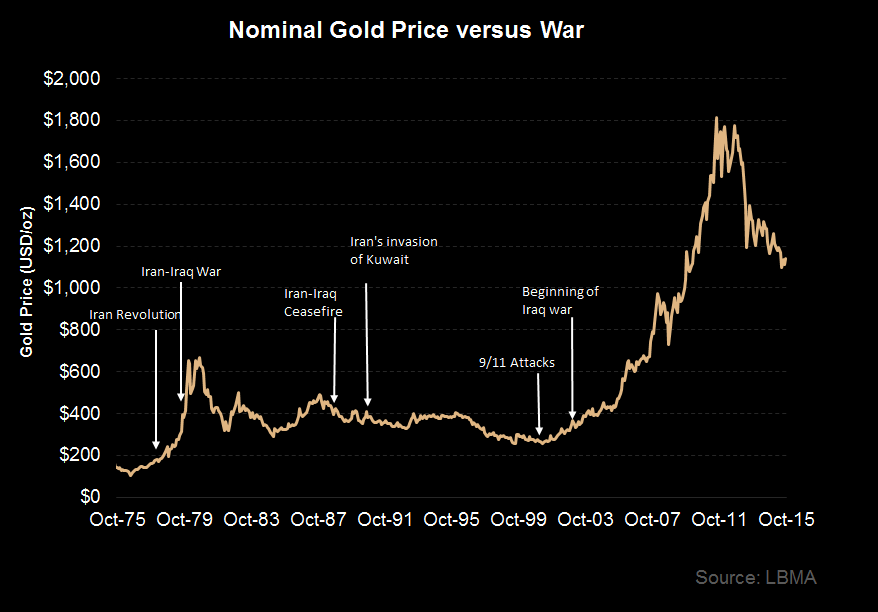 The insanely good thing about understanding the rareness of gold and its role as a disciplinary anchor and a safe haven asset is that the citizenry in the Western world chooses to remain willfully ignorant about it. Therefore, the competition of the tiny group of believers is not with the late-comers or doomsday preppers; it is with the institutional investors, wealthy family offices and hedge funds aka 'The Smart Money'. And this phenomenon becomes visible to the general population when the spread between the real physical metal and the manipulated "spot" price goes through the roof - like it did earlier this year.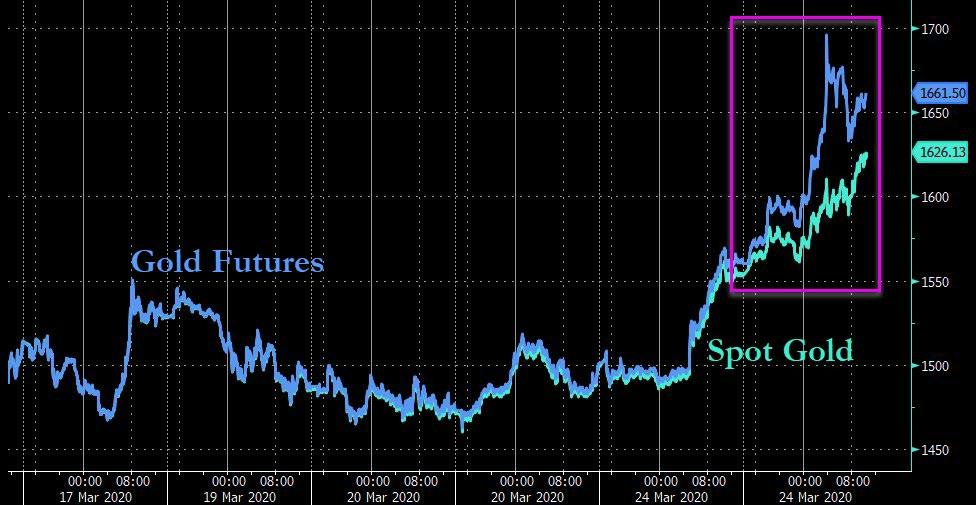 The Central banks of the world keep getting a really bad rap for their awful, almost tyrannical zero and negative interest rate policies. But the one thing that the high IQ indoctrinated bots that work there have figured out is they need gold. They like to write a whole lot of white papers as to why their gold hoarding is no big deal and it is just meant to be just a hedge against inflation or weakness in the US dollar hegemony. But the undeniable hard fact is that every nation state is permanently insecure about regime control and hence chooses to place its confidence, via its central bank, on an asset that has proven to be money over the past five and a half thousand years.
Is geopolitical conflict close-by?
In January of 2017, the last leader of the Soviet Union, Mikhail Gorbachev shocked the world by stating that it felt as if the world was preparing for war. Obviously, his vision was attacked and his wise words were deemed an old man's rant. However, just three summers later, as we enter the second half of 2020, the prediction has begun to appear hauntingly prophetic.
What are the geopolitical hotspots on planet earth right now? In order of their potential of going from concerning to super-worrisome, they are as follows:
South China Sea (Australia/Japan/US ↔ China)

Galwan Valley (India ↔ China)

Ottoman 2.0 Expansion-istan (Turkey ↔ Egypt/Syria/Iraq/Libya/Greece)

Iran ↔ Israel/US

North Korea ↔ South Korea/Japan/US

Europe
Leave me a comment if there's any interest in reading a detailed commentary on why either or any of these has an increasing likelihood of "suddenly" turning kinetic.
Lessons of History
In 1940, Nazi Germany had displayed its grit and its true intent by invading Poland and it had become increasingly clear to Great Britain that the Nazi war machine was unstoppable. This triggered the greatest transfer of wealth in modern times. Operation Fish, a plan to move England's entire gold reserves was set in motion. All of the gold that England had originally looted from India and its other colonies through its illegitimate offspring - The British East India Company was sent to Canada. The transfer began on the 7th of October 1939 as HMS Emerald sailed from Plymouth for Halifax, Nova Scotia with the first batch of gold bullion bound for Montreal.
What would be the reason for taking on a risk of such proportions, especially with the Nazi U-boats lurking in the Atlantic, you may ask - to protect it from the Germans? Maybe, but more so to be used to pay for the purchase of weapons and related war equipment from America. And why is that? Because America refused to accept the mighty pound sterling - the global reserve fiat currency at the time.
"Gold is not necessary. I have no interest in gold. We will build a solid State, without an ounce of gold behind it. Anyone who sells above the set prices, let him be marched off to a concentration camp. That's the bastion of money."

Adolf Hitler
These words of the Fuhrer remind me of the Netflix hit drama 'House of Cards'. The protagonist Frank Underwood played by the inimitable Kevin Spacey has a fascinating line which he utters the following to himself in a pensive mood: "The road to power is paved with hypocrisy and casualties. Never regret."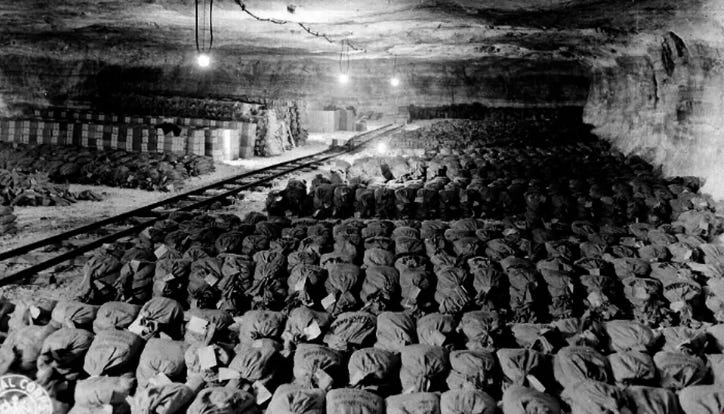 In the spring of 1945, U.S. troops, acting on intelligence inputs, found over 7,000 gunny sacks full of gold bullion neatly tucked in an excavated area of the Merkers Salt Mine about 75-feet deep and 150-feet wide. The cache was so significant that General Dwight D. Eisenhower himself went into the mine in April in order to examine the unbelievable find. This hidden treasure constituted the entire gold reserve of the Nazi Central Bank based in Berlin - The Reichsbank.
"The sinews (i.e. muscular power) of war are not gold, but good soldiers; for gold alone will not procure good soldiers, but good soldiers will always procure gold."

Niccolo Machiavelli
Where's the elites?
In times like these, many of us wonder where are the virtue-signaling, uber-wealthy elites? We haven't seen them too often since March wearing their fancy Armani suits, giving five minute soundbitey interviews to their salivating lap-dogs on CNBC.
Despite talking tough and yet hiding in bunkers, the elites are good at offering reasons that appear sound and honest and logical but conceal the real motive behind their intent of hoarding the yellow metal.
"When interest rates are zero or near zero, then gold is an attractive medium to have because you don't have to worry about not getting interest on your gold. I would be buying now and continue to buy."

Mark Mobius, co-founder at Mobius Capital Partners, speaking with Bloomberg in July 2020
I wager that the "sudden" move toward gold has little to do with interest rates and more to do with the fact that the rules based global order that the US and its allies had established in 1945 has been challenged mercilessly by ruthless actors like Russia, China, Turkey and Iran and has therefore been pushed to the brink.
Just a thought…
I think it is human to worry about our own survival through such turbulent times, and that of our dear ones. However, at the same time it is important to remind ourselves every once in a while that the invisible, unstoppable and invincible force known as time is chugging along silently, in the background.
"Everything is more beautiful because we're doomed. You will never be lovelier than you are now. We will never be here again."

Homer, author of the Iliad and the Odyssey, two epic poems that are the central works of ancient Greek literature.
---